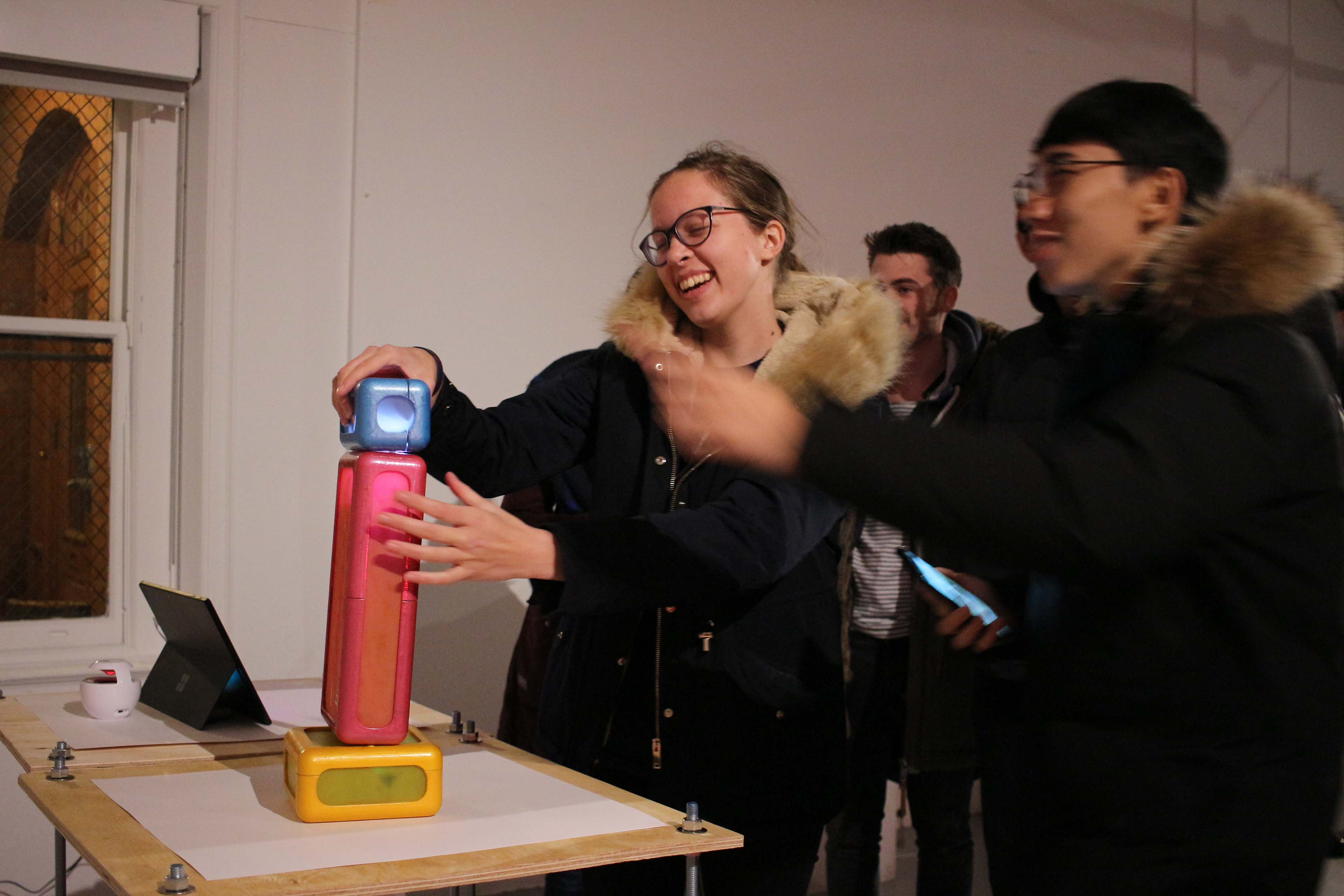 industry
toy design, gallery piece
skills
industrial design, product management
collaborators 
Gabe Unger (EE), Yilin Geng (EE), Sophie Perez (Mech E/Designer)
Wonder Bricks! are cloud connected toy blocks that aim to be everything we thought a simple cardboard brick could be. Wonder Bricks! are not the smart toys of the future...they are the modern manifestation of the toys we once loved, and they remind us what it feels like to imagine again. 
Wonder Bricks! were exhibited as a part of the Nostalgic Futures gallery show at the University of Pennsylvania in the Spring of 2019.
materials
3D printed ABS, Sandblasted Acrylic, Fasteners, Particle Argon, LED Matrix, Accelerometer, LEDs, Capacitive Touch Sensor
how it works
First, follow the building instructions to set up your blocks.
Videos were taken during the gallery show, while guests were interacting with the bricks.
process | inspiration
My siblings and I had these oversized cardboard bricks as kids that we'd play as instruments and build into castles. In our minds, they were so concretely those items, and I wanted to bring that fantasy to life.
process | design
Once the initial theme was decided upon, myself and my team that comprised of two mechanical engineers and one computer scientist brainstormed the exact form, functions, and how those functions would be executed.
I went through a few iterations of CAD models, taking into account how the bricks would be constructed for easiest access to the inner parts, printability, and visual ratio of printed piece to laser cut sheets. We broke each brick in two, and epoxy'd in metal press fits.
I explored two methods for finishing the bricks: spray paint with a coat of XTC 3D and XTC 3D with powdered pigment. The pigment ultimately produced a more durable, vibrant look, which I preferred because I knew people would be handling it at the show.